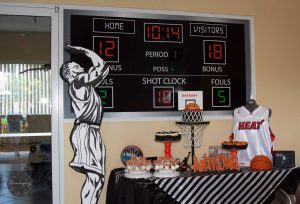 Boca4Kids.com and WhatToDoInBocaRaton.com are the leading local websites in our area for events, forums, and recommendations for kids, families, and friends alike. In the first of its kind, Boca4Kids and WhatToDoInBocaRaton hosted a birthday party to showcase local companies for this very special event for two lucky kids.
How do you begin to throw a party for two different children? How do you accommodate their different interests?
We started by getting to know both of them, their personalities, and their tastes. Like most little girls, Dina spends her days singing "Let It Go" on repeat, and Anthony changes his sneaker collection to match his favorite basketball team. We set out to throw a Frozen party for Dina, and a basketball party for Anthony.
The party was held at a local community clubhouse in Boca Raton that graciously agreed to house the event. With our backdrop secured, we moved on to the birthday party essentials.
The staple of every birthday party is the treats. Local mom of three, Christy of Ideal Confections jumped at the chance to create custom cupcakes for the kids to enjoy.  In addition to having cupcakes for the occasional sweet craving throughout the day, The Frosted Cake Shoppe provided two custom cakes in accordance with each kid's theme. Who doesn't love a Disney inspired cake? Get this, they even offer kosher options. (Mazel!) Not into a full cake? The cake pops craze shows no sign of slowing, and thanks to SusyPops, the kids had portable custom cake pops at their fingertips.
To help the kids recover from their sugar coma, we thought active games would keep the kids engaged and occupied for the entirety of the party. (What parent hasn't had that problem?) To help us achieve this, Energized Games stopped by with their state of the art gaming truck. Who doesn't love a mobile way to keep kids interacting with one another?
We wanted to do something special for Anthony, and we were lucky enough to have i9 Sports lend their time to us by having a basketball coach oversee pick-up games and even share a few pro-tips for the party. The boys loved spending most of their time on the court.
We couldn't forget about Dina! We were so excited to have Ooh Lala Beauty Spa be on location with hairstylists and nail specialists for the girls to enjoy. Every princess needs their own stylist!
What do you remember most about a party after you leave? For us, it's the food, which is why we were so excited to have great food vendors agree to help out with the party. If you ask any kid what their favorite food is, we can bet most will say pizza. The best pizza place in Boca, Boca's Best Pizza supplied pizzas and garlic rolls for everyone to enjoy. But we didn't stop there! D'Best Sandwich Shop was also on location serving up gourmet sandwiches. The adults indulged in their delicious take on a simple party staple.
Aside from games, we wanted the kids to have the opportunity to occupy their time with some custom and unique gifts they could take with them once they leave. Graffiti-Pop was the perfect fit for the vision we had for this party, and they were generous enough to supply on location airbrushing for our guests' goodie bag giveaways. That's my Tutu supplied the girls with extra fun with adorable tutus to go with their custom t-shirts.
We wanted to make sure both kids had something to remember this party forever. Rachel's Creations & More hooked us up with custom painted name letters for Dina and Image360 provided a stunning scoreboard and basketball cutouts. Both kids enjoyed a personal photo shoot courtesy of Serendipity Photography as well as some shots with their closest friends during the party.
To set the scene, we enlisted Bella Events and Celebration Creations by Erica. Bella Events created custom cutouts for both the Frozen and basketball themes, which ended up looking great combined with the custom balloon designs Celebration Creations by Erica provided us. The party looked both sporty and icy-chic to appeal to both kids.
We were thrilled when we were able to secure Tiaras and Wands to give the kids time with Frozen characters, all while playing games, getting their faces painted, and participating in sing-alongs. Since this is something more targeted to Dina and her friends, we wanted to make sure Anthony's invitations were as unique as possible. SpecialistID fit the bill by giving us lanyards and badge holders to make sure Anthony's invites were fun and something the kids would enjoy showing off.
Once we secured so many amazing local vendors we knew we needed help with delivering all of the goodies to our venue. We were able to find Full Service Van Lines to help us out, and we're eager to work with them again.
EliteFlyers provided us with gorgeous photo enlargements as well as brochures to show off all of the amazing local companies we had the pleasure of having at our event.
We're looking forward to throwing more parties in the future, and if you have loved what you read, please feel free to reach out to us.