Today's giveaway is sponsored by:  FlowerToy

FlowerToys are the most beautiful 3D toys that are made of fresh flowers and look like your favorite toy.
If you are tired of the traditional assembly line designs that many shops are offering, then we are the shop for you. Everything we design is individually created per order even during the busy holidays.
We also specialize in private and corporate events. We will transform any space into a Magical Kingdom and make your next event special and unforgettable.
Enter below for your chance to win the following: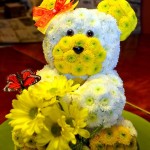 $100 FlowerToy Gift Certificate