Today's giveaway is sponsored by: Kutsie Baby
Kutsie Baby is the best online baby store to shop for the newest baby shower gifts, baby accessories, baby clothing, nursery bedding, diaper bags, nursing and teething necklaces, boutique women's jewelry, gifts for moms, and so much more!
Enter below for your chance to win the following:    
Cuddlecloth: A one of a kind easy release bath towel made for baby's safety and your convenience. Cuddlecloth is worn on parent "before" bathing baby. After bath, mom/dad use both hands to safely lift baby from the water directly on Cuddlecloth. With a natural motion, pull towel from top and side to cover child, Cuddlecloth automatically releases from mom's neck. Cuddlecloth is now around baby, not mom. Luxurious, 100% cotton terry velour.
What's Included in the Cuddlecloth Gift Set: (Winner choice of Pink or Blue and Free monogramming)
45″ x 30″ Cuddlecloth hooded bath towel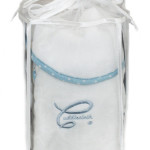 9″ round luxurious 100% cotton terry velour washcloth
reusable vinyl & organza gift bag with satin ties